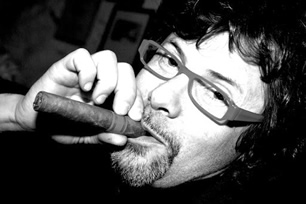 Roberto Bertazzon was born in Pieve di Soligo, in the rolling hills of Veneto.
Painter, sculptor or "conceptual designer", as they say nowadays. He shares his time between is Art Studio in Roganzuolo Castle (TV) and his Atelier in Paris, XIXth Arrondissement.
In 1995 he began his long series of solo exhibitions around the world, from Europe to Asia to the United States. He loves the theater and often takes the role of set designer in several works. He is often invited to give lectures in Artistic Italian School. His wandering mind drove him to collaborate with poets and writers, although his best performances are born from his passion for the defense of nature and Earth. His installations at Cinematographic Venice Biennale were explicit social campaigns for the protection of the environment with the aim to instill more awareness. With his art work he claims the importance of biodiversity for all of us. This is the reason why both plants and animals soon became the icons of his sculptures and paintings, consolidated in the Art.Co. Manifest of the Planet Life Economy Foundation. Italian museums, public and private institutes have his pieces, including paintings and installations of various types.
Numerous European, Eastern and USA collectors, have shown interest for the conceptual translation of his real: his works.